What is CPDLC?
The International Civil Aviation (ICAO) Document 4444, "Procedures for Air Traffic Management," defines CPDLC as "a means of communication between the controller and pilot, using data link for ATC communications." Controllers use this method as an alternative to voice communications, transmitting nonurgent, strategic messages to the aircraft's Multi-Function Control and Display Unit (MCDU):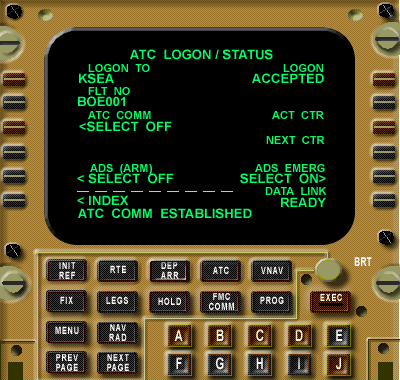 B747-400 FANS Display (photo credit)
Pilots can respond to messages, request/receive clearances and information, and report information. A "free text" capability sends messages that don't conform to defined formats.
This air/ground data-link application functions as an additional, independent, and secure channel. CPDLC reduces traffic on busy VHF sector radio frequencies, transmitting clear messages with little risk of misunderstanding. Not only does it increase capacity and safety, but it also improves day-to-day communication among controllers and pilots.
Which training benefits does SERA's CPDLC package provide?
The burden of role-playing both ATC voice and data-link communications usually falls to instructors. Unfortunately, managing the open dialogue of both formats in a single exercise can be tedious and frustrating. Many exercises only address one format at a time, and the resulting experience falls far short of reality.
SERA offloads this responsibility, enabling instructors to focus solely on training objectives. Student pilots learn to multitask in the cockpit, responding to both message formats in real time. AI entities behave just like actual controllers: if a pilot doesn't respond to a data-link message, ATC follows up with a radio call.
SERA provides a hardware or software interface with fully simulated CPDLC capabilities. A built-in API sends and receives standard message sets defined in the FANS 1/A+ and ATN B1 standards. SERA's database includes a comprehensive directory of controllers, reducing time-consuming configuration and setup.
ASTi's SERA CPDLC package supports a variety of capabilities:
Data-Link Initiation Capability (DLIC): included as a prerequisite for all other CPDLC functionality
ATC Communications Management Service (ACM): provides automated handovers between controllers
Departure Clearance (DCL): provides automated assistance for requesting and delivering departure clearances to aircraft
ATC Clearances Service (ACL): enables operational exchanges over data link (i.e., flight crews send requests and reports; ATC issues clearances, instructions, and notifications)